Snow Removal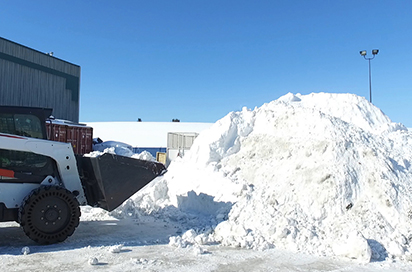 Dhillon Bros Paving Ltd provides snow removal to fit all your snow removal needs. Whether it's a large parking lots, sidewalks, driveways, roadways etc., our professional Richmond team is prepared to complete any job, residential or commercial. We are on call, 24 hours a day 7 days a week to remove snow quickly and efficiently.
We work to accommodate all of our customer's needs and time restraints. Whether you need a one-time service, periodic or regular services throughout the snow removal season, Dhillon Bros Paving Ltd has you covered. We are absolutely reliable to all of our customers. We strive ourselves day and night to satisfy every customer's during the winter, as we do all year around. So, please contact us at (604) 839-5531 for free estimations or questions about our snow removal services.
Our vehicles and equipment's are regularly inspected and government approved. Our professional crew is ready and informed to carry out our service and to save our clients time. Our Plow Trucks, Bobcats, Backhoes, Salting and Heavy equipment are ready at your phone call.
Why is Snow Removal Important?
Although snow in the winter season can be a beautiful, it can also be dangerous. Especially, if your driveway or commercial property isn't cleared, it may become a hazard to your customers, home owners, and pedestrians. When snow piles up and ice builds up on city sidewalks, walkways, driveways, park lots or commercial sites. All property owners and occupants are responsible for clearing snow and ice that surround their property. Failure to do so will may possibly result in a fine. This is why our snow removal and salting service comes in handy.
Dhillon Bros Paving Ltd is here to accommodate all your needs. We can clear your property, in a timely and proficient manner, to avoid all costly consequences. Whether it's a commercial or industrial property, we want to insure and protect the welfare of your customers and clients. As well as, the safety of your own family members, employees and the general public. As due to the unpredictable winter weather conditions, it is important to call us and make arrangements so we can make your property safe and accessible during the season.
Property Maintenance
When you have many people depending on you, smart property managers know they can depend on us for your commercial and residential property management services.
From large apartment complexes and residential strata, to shopping malls and restaurants, we offer property maintenance services to buildings of all sizes. When understanding the responsibility that comes with taking care of large properties and multiunit dwellings and we have built a reputation based on reliable service, hard work, and competitive pricing.
For the best in exterior property maintenance in Richmond, go with the pros at Dhillon Bros Paving. We are experts that provide top services cleaning and repairs for all types of exterior property needs. We do all types of exterior property maintenance services such as lawn installation, paving, excavations, line painting, parking lot maintenance, and more. We provide professional exterior property maintenance all throughout Richmond, Vancouver, and the Lower Mainland at competitive rates so you get the most out of your dollar. We do all types of residential, commercial, and industrial exterior property management all year round.
Dhillon Brothers will maintain your property for you, we will cover all of the areas such as parking lots, driveways, city sidewalks, staircases, store entrances, loading docks, emergency exits, wheelchair ramps and common areas, Shopping Centers, Church's, Public Roads, City Property & More