Lawn Sprinklers
Are you ready to take the hassle out of maintaining green grass and a healthy garden? Then a lawn sprinkler irrigation system is what you need.
Automated lawn sprinkler systems help take some of the work out of yard work by setting your strategically located sprinkler heads throughout your lawn and garden watering to convenient timers. Automated watering makes adhering to municipal water regulations easier. In addition, special rain sensors can be installed that communicate directly with the lawn sprinkler system telling it to skip a cycle if a certain level of rainfall is reached.
Here are 3 reasons you might want to consider a lawn sprinkler installation for your property:
Optimal watering with no wakeups

Did you know that the best time to water your lawn is early in the morning between 5:00 am and 9:00 am? Not only does this happen to jive with most municipal watering windows, but it also delivers water to your lawn and garden when they like it most- before the hot sun comes out.

More time playing, less time spraying

With hectic schedules, wouldn't it be nice to enjoy your yard without worrying about lugging hoses and sprinklers around? Let the lawn sprinklers take care of the work.

Conserving resources

Contrary to what some people may believe, a little regular watering can help conserve water over the long run as it is much less water-intensive to keep grass healthy and green than to try and revive it once it yellows.
If you want more information on lawn sprinkler systems or an obligation-free estimate, reach out to Dhillon Bros Paving today. We have been helping residents and businesses with the irrigation systems for years, and we would love to count you among our many happy customers.
Types of Irrigation
Sprinkler Irrigation
Surface Irrigation
Localized Irrigation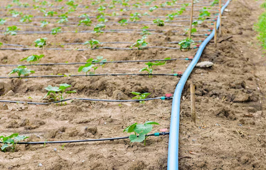 Drip Irrigation
Center Pivot Irrigation
Lateral Move Irrigation
Subsurface Irrigation